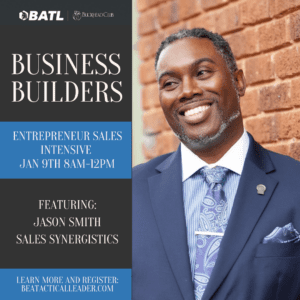 Welcome as we begin our quarter focused on improving our sales acumen!
Jason is a graduate of the U.S. Air Force Academy, serving on active duty for four years and reaching the rank of Captain. Jason left active duty unexpectedly due to medical reasons and started a challenging transition to the workforce, quickly landing in Enterprise B2B Sales.  Jason found tremendous success in this career for over 15 years at companies like IBM, RedHat, and Fiserv.
He founded Sales Synergistics in 2016 as an alternative to traditional strategic consulting for small businesses in Atlanta. In 2018 Sales Synergistics was selected as an affiliate of ASLAN Training & Development, to deliver their 23-year training curriculum to major enterprises like, HP, Trimble, US Bank, and American Airlines all over the globe.