Laura DiBenedetto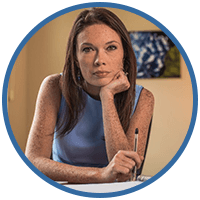 The concept of authenticity and vulnerability has been a running theme in this show. But in this week of Tactical Leadership, Laura DiBenedetto will take that further and show us how she is planning to rid the world of insecurities. As an author, speaker, and unapologetically authentic person, Laura DiBenedetto will share with us how she manifested her self-acceptance at an early age. She started her business at the young age of 19, and she retired at still the young age of 37 to pursue her global mission of spreading true happiness.
We will also delve into a deeper approach to authenticity and self-security, as this connects to the true motivation behind people's deeds. Her book, "Six Habits" is a complete guide for self-acceptance and being true to yourself. Let's jump right in and join Laura's light side!
Tactical Friday: Living in the Light Side with Laura DiBenedetto
Changing your life is just as simple as changing your everyday habits. After all, it's the small things that make the biggest difference.  Welcome back to Tactical Leadership! Today, I welcome back Laura DiBenedetto to share with us her 90-day habit mastery program. This program is designed to make us used to the light side of our habits, which will ultimately bring out our better selves. She will also talk about her happiness quiz, which pretty much gives us an idea of where we are on our journey to happiness.
Let's jump right in and start taking out the trash in our life!
[00:01 – 1:09] Opening Segment
I welcome back Laura to the show
Quick recap of what was talked about last Monday
90-day habit mastery program
[1:10 – 7:47] The 90-Day Habit
Mastery Program Habits being formed in 66 days minimum
Living in the light side of all the habits
How these will make you feel amazing on day one
Gratitude and being your best self
[7:48 – 12:46] Putting the Program into Routine
Laura talks about what it looks like to do the 90-day program
Success tips
How the program makes you aware of your presence
Laura's happiness quiz
[12:47 – 15:01] Closing Segment
See links below to connect with Laura
Final words
Tweetable Quotes
"Life has been 'interesting' in 2020 and going forward, and my default is still gratitude." – Laura DiBenedetto
"Sometimes, you'll never meet the most successful people in the world because they don't give a shit about money or fame. They just want to sit someplace in a jungle and just love themselves" – Laura DiBenedetto
Resources Mentioned
You can connect with Laura by visiting  www.lauradibenedetto.com and  www.thesixhabits.com.  
Banishing The World's Insecurities with Laura DiBenedetto
 [00:01 – 7:11] Opening Segment
If you have a platform and want content that DELIVERS, go over to http://knightly.productions (knightly.productions)!
I introduce Laura to the show TEDx speaker and no.1 bestselling author of "The Six Habits" Starting a business at 19 years old and retiring at 37
[7:12 – 16:07] Authenticity and Happiness
How being your authentic self helps in finding your happiness
The joy in being loved for who you are truly
Happiness is the biggest indicator of identifying your true self
Separation of role and identity Identity is who you are and roles are what you do
[16:06 – 26:26] Toxic Habits and Blindspots
Most things have a dark side and a light side
Dark side: shame as a motivating factor
Light side: kindness as a motivating factor
Linking the lack of self-acceptance to the alpha mindset
Teaching gratitude in all things Laura's six habits
[26:27 – 33:37] Closing Segment
Resources and tools that Laura recommend
Therapy
Laura's book, "Six Habits" and its companion tools
What's the legacy you're wanting to leave the world?
Helping people be in a state of security with themselves
See links below to connect with Laura
Tweetable Quotes: 
"I've done extraordinary stuff by just being ordinary. I want to encourage other people to do the same." – Laura DiBenedetto
"Nothing makes us feel more joyful than when we get to be loved and accepted for who we are. Not who our partner wants us to be, or who our boss wants us to be, or who our client wants us to be." – Laura DiBenedetto
"When we separate the idea of identity and role, then we actually become bulletproof in the tasks we have before us." – Laura DiBenedetto
Resources Mentioned
You can connect with Laura by visiting www.lauradibenedetto.com and www.thesixhabits.com.
Like what you heard?
Did you love the value that we are putting out in the show? LEAVE A REVIEW and tell us what you think about the episode so we can continue on putting out great content just for you! Share this episode and help someone who wants to expand their leadership capacity or click here to listen to our previous episodes.
• Join the BATL Space Facebook group
• Book a Discovery Call
About the Host: Zack Knight
Zack sits down with CEO's and experts to share tactical knowledge of how to become a better leader and create a more effective, safe environment for your team.  Zack offers consulting and podcast coaching and runs Knight Protection Services, LLC, a company that helps busy executives build a winning culture through safety and security.